SEQUENCE EXCERPT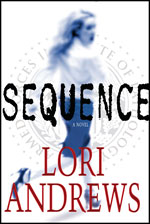 "Bingo. He found Barbara."
Alex gasped. Her skin tingled.
Dan was all business. "Shit. Has it got the old address?"
Chuck smiled. "No, we've got him hooked. Looks like she took out a small loan for her daughter's summer camp. The monthly bill is now being sent to the Pentagon."
Alex could see nothing to smile about. The Tattoo Killer now had Barbara in his cross-hairs. "How are you going to warn her?"
Chuck explained that they had agreed upon a signal. He immediately sent Barbara an e-mail from a fake website for women's cosmetics. It said simply, "Your order is ready."
Alex felt a pang of fear. They had practically painted a target on Barbara's back.
Dan looked at her, reading her thoughts. He nodded. "It is risky, Alex. But we've got a continuous feed from her and combat teams at full readiness a minute from where she works and lives."
"A lot can happen in a minute, Dan." Alex thought about the San Diego coroner describing the killer as a phantom. Marilyn Mayne's trachea was crushed in seconds.
Dan looked at Alex's white face and put his arm around her. "You have my word on this one. Nothing's going to happen to Barbara. Whether he strikes tonight, or weeks from now, it's going to be alright."
Alex nodded feebly, without confidence. This guy was smart. Much smarter than Grant or any of his gadgets. She had the foreboding feeling that it wasn't going to be alright at all.
Published by St. Martin's Minotaur
Hardcover: ISBN: 0312352700; $23.95; 288 pages
Paperback: ISBN: 0312942451; $6.99; 336 pages
Available at local independent mystery booksellers, Amazon.com, Barnes & Noble and Booksense.com.
All content © 2006-08 by Lori Andrews.
loriandrews.com